Introduction
Chief Fire Officers Association
Fire Services in the UK
In the News
International
This page is version 001 updated 11.24am uk 21 March 17 - expect many updates in next few days.
Introduction
From the
CFOA
list of UK Fire and Rescue Services, we can see eleven regions with 52 services.
This page will explore the use of drones, UAV and UAS (Unmanned Aerial vehicles/systems).
It's a companion page to
The UK Police and Fire Drone Resource Page
.
Chief Fire Officers Association
-
Using Drones to Improve Firefighting,
12 Sep 16
video mentions
Devon/Somerset
, models seen DJI Inspire, Yuneec
Research and Development Survey Report Feb 2017 (
download pdf
) mentions drones: Using drones / UVAs to assist with firefighting p6, Other areas of testing include drones / UVA's (with a number of FRSs now using drones in an operational environment), body worn video and fire ground communications p10,
Beyond Blue Lights 2016 highlight the drone in their video (see DJI Inspire
at 48 secs
).
Fire Services in the UK
South Western Region
Avon
Cornwall
Devon and Somerset - evidence of drone, incident
28 Oct 16
.
Dorset and Wiltshire
Gloucestershire
Guernsey
Jersey
South Eastern Region
Buckinghamshire
- Bucks do have a drone, they have said so (doc 6.2,
8 Feb 17
), they have a thermal camera too,
ref doc
.
East Sussex
Hampshire
Isle of Wight
Kent
- Open day
Aug 16
, video showing drone in action. Exercise where a drone was used
14 Sep 16
. Incident page, drone used
17 Dec 16
. News report
27 Sep 16
, showing DJI Inspire.
Oxfordshire
Royal Berkshire
Surrey
West Sussex
North Eastern Region
Cleveland
- Drone to Give New Perspective on Football Policing Operation,
17 March 17
, DJI Inspire.
Durham
Northumberland
Tyne and Wear
Yorkshire and Humberside Region
Humberside
North Yorkshire
South Yorkshire
West Yorkshire
North Western Region
Cheshire
Isle of Man
Lancashire
- Aeryon news
13 Jul 16
Skyranger, scrapyard fire
7 Dec 16
from Aeryon news
Greater Manchester
- New Air Unit, Aeryon SkyRanger
20 Jul 15
and BBC News,
27 Oct 15
. Case Study No12 Using drones in fire and rescue services in the United Kingdom
3 Nov 16
. see Aeryon section for more..
Merseyside
Northern Ireland
Eastern Region
Bedfordshire
Herts facebook Jan 16
Cambridgeshire
Essex
- scrap yard, assistance from police drone,
28 July 16
Hertfordshire
- CC
Horizons
Autumn 16 and facebook post
16 Jan 2016
with photos of DJI Inspire
Norfolk
Suffolk
East Midlands
Derbyshire
Leicestershire
Lincolnshire
Nottinghamshire
Northamptonshire
West Midlands
Hereford and Worcester
Shropshire
Staffordshire
Warwickshire
West Midlands
Wales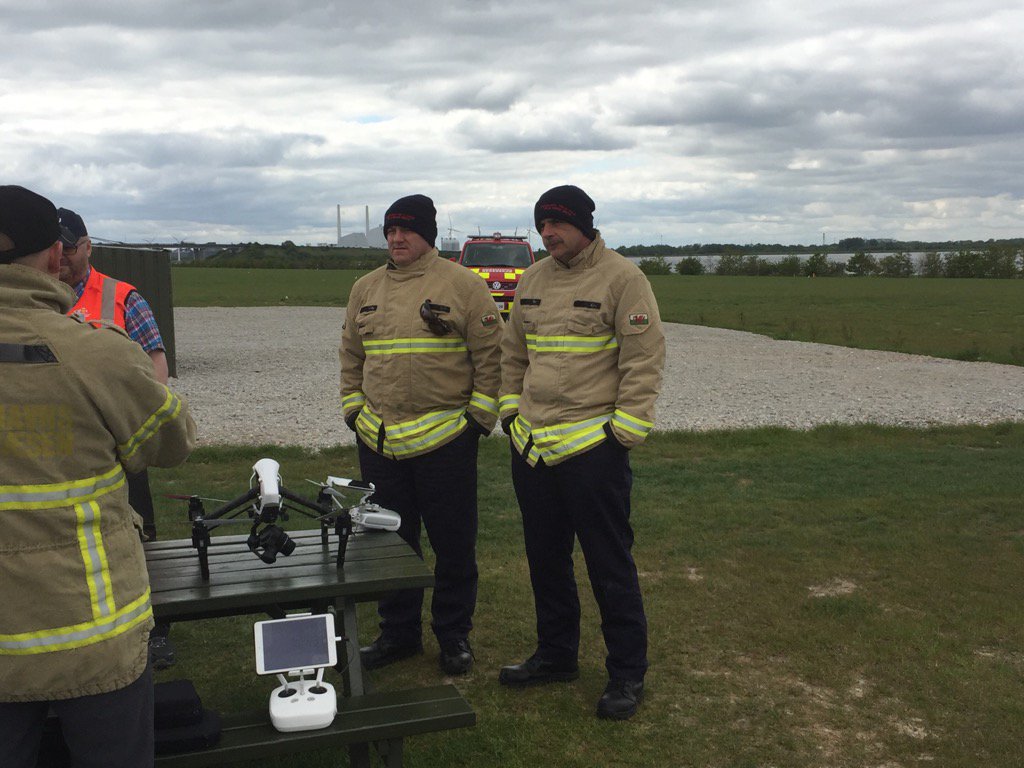 Mid and West Wales
- 'Fire Service Trials Unmanned Aerial Vehicle
12 Nov 15
DJI Inspire. Funding for larger drone,
18 Mar 16
, no idea on model. Tweet with photo,
17 May 16
.
Innovation award developing drone trial,
1 Dec 16
. Tweet with photo
7 Dec 16
, DJI Inspire and Aeryon Skyranger.
North Wales
South Wales
London
London Fire Brigade
Scotland
Scottish Fire and Rescue Service
Ireland
- Dublin Fire Brigade wonderful
video 10 Mar 17
, DJI Phantom Pro 3, Yuneec Typhoon H with thermal imaging camera.
International -
Land Rover unveils drone-fitted search and rescue vehicle to support Red Cross Red Crescent disaster response (Emergency Services Times,
14 March 17
Model: Taiwanese
Align M480L
uav drone. More at:
mbnews
.
the sun
.
multicopter-en/m480l
Drone manufacturers
- Another route, just search drone brand websites for words like, 'uk fire man
DJI
releases first count of lives saved by drones, Crisis Response,
16 March 2017
. The full six page report is available at
dropbox
.
Aeryon
- The Future is Bright for Drones Used in Fire and Rescue Services, Public Safety showcase,
18 Jan 17
.
Case Study No. 12: Using drones in fire and rescue services in the United Kingdom
3 Nov 16
In the News
On 20 March 17, in a
Sky News post
about police drones, it was said, 'Meanwhile, two-thirds of fire services were also using unmanned aerial devices, which were credited with saving emergency workers' lives.' A few easy line to write, a whole different matter to prove it, while detailing drone models and uses.
Drone at Oklahoma House Fire
- Example of HD video
22 Oct 16
.